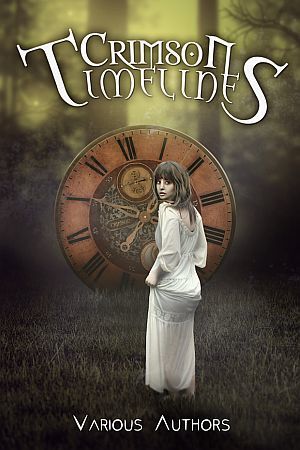 Crimson Cloak Publishing Store– Crimson Timelines
Crimson Timelines is an anthology of engaging stories weaving paths in time and the mind. Enjoy a stroll through the fourth dimension with these diverse authors. A great read with wide appeal.
Stepping out of the Holocube by Janice Clark– A clever paradox story. 
Life Within a Stone by Madeline Dow
The Lighthouse by Glennyce Eckersley– A couple tour a fascinating lighthouse, only to later discover it has been in ruins for years  …
Captain Tom's Trophy Time Safaris by TW Embry– An escape to the past has unexpected consequences.
Second Chance by Denna Holm– Gillian had longed for years to see her lost daughter and husband again. Could her prayers have been answered?
The Certain Path by W.H. Matlack– An antiques expert stumbles upon a mysterious "watch" that appears to be able to turn back time …
The Grass is Always Greener by Lynne North– One should be careful
when transporting oneself to the past …
The Man on the Beach by Rodney Page– A mysterious encounter proves life-affirming for a despairing man.
The Tattoo by Esma Race– A window in time helps a mother to keep her promise.
A Mother's Love by P.J. Roscoe– Bittersweet memories of an often-absent parent.
A story with a twist.
Mail by Patrick Shanahan– Unravels the consequences of a late-delivered letter.
Vladimir Lazorav is Missing by Patrick Shanahan
In the presence of time by Sean Tate– Time is a mysterious thing, that catches up to us in the end …
You can learn more about these authors and other wonderful books here at Crimson Cloak Publishing.